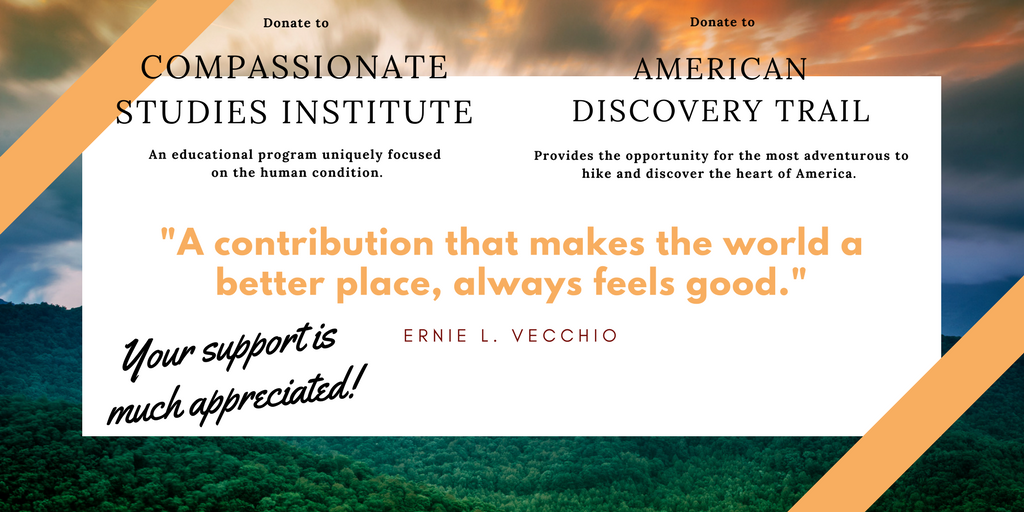 The Compassionate Studies Institute (CSI) is an educational program uniquely focused on the 'whole' of the human condition and intended for professional helpers as well as those interested in personal and spiritual development. Those who seek CSI Certification understand the importance of an integrated philosophy of life and wish to expand their context for 'being' in the world that is intentional, guiding, and evolving. Students will learn terminology and gain a precision of understanding that brings integrity to an otherwise 'blurry' but important stage of human development. Though these teachings culminate within The Soul's Intent (Vecchio©2008), individuals will also gain knowledge that follows the continuum of Intentional Guided Evolution (IGE) and the heart-centered focus of Gifted Compassionate Therapy (GCT) (Vecchio©2018).
The Camino Del Alma in affiliation with the Compassionate Studies Institute will change lives. As a pilgrimage, it gives us a chance to reflect. As a meaningful and targeted campaign for integrity, an opportunity to take our suffering to heart. As an educational and compassionate imperative, a sense of closeness and community born out of wanting a better world. The human compass is not lost, our needle is stuck. The personal and collective ego has our full attention, so it is little wonder that we're disoriented.  We need to shift our gaze.
The intent of the Camino Del Alma is to 'give back' and connect with people who wish to make a difference in the world. I want to leave a legacy as a teacher and professional helper that perpetuates an ideal of compassion and reciprocity. A context of self-understanding that moves us forward. Because a psychospiritual context of what it means to BE in the world is universal, CSI's teachings will do exactly that. By offering a valid integration of the human experience, we transcend race, religion, and culture eliminating the very boundaries that divide us all. Essentially, #innerlivesmatter is for everyone and anyone who has ever suffered.  If you care to impact the importance of having an inner life, please donate to the Institute. I am also encouraging your support and appreciation for the American Discovery Trail.  Their donation link is also listed below.  Thank you!
Donations for Compassionate Studies Institute